I thought I'd show off two of the robes I've made from the same pattern. It's amazing how much the fabric changes the look. The pattern is, by this point, practically self-drafted. I think I started with
McCall's 2940
but hated how massive it was. There's roomy and comfortable and then there's being consumed by fabric. Even the small was too large to move in. So I began changing it. I narrowed it about 4" at each shoulder, redrafted the armcyc to fit a little more closely, redrafted the sleeve cap to fit, flared a bit at the waist, and shortened it to hip length. And that was the first round of changes. I think I made more after that but before the blue robe was made. So, yeah, I consider it "my" pattern by this point. I figure I've earned it!
Blue Robe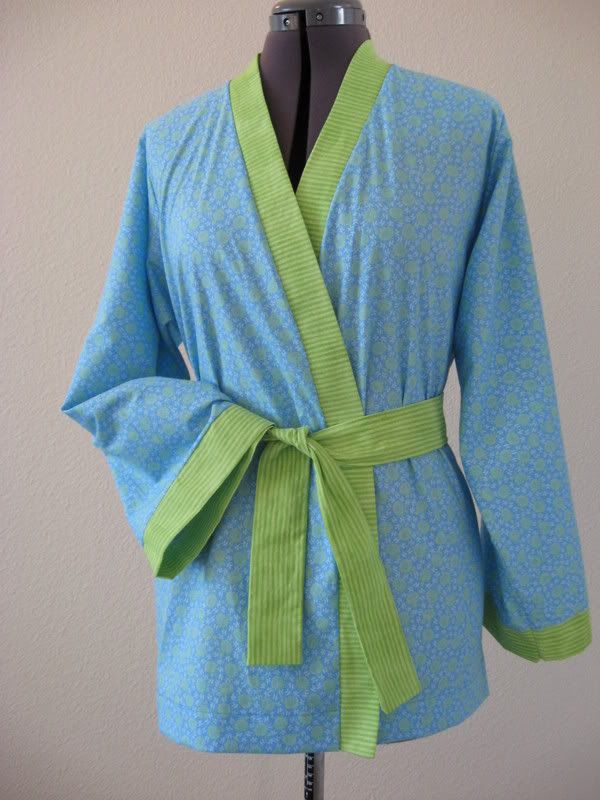 I love this robe. It was originally inteded to be a bridal shower gift for a friend but I finished a little late and we haven't gotten together since. I got married a few months after she did and she bought me some stuff as well and, since we haven't been in the same place at the same time, we both decided to just keep the gifts we would have given to each other. Odd, but it works. :) And I've been wearing this robe to bits! It's fantastic for throwing over a pair of pants and a cami. It's nice enough that I could wear it out but super, super comfortable. I let my DH cut out the tie and it turned out far shorter than it's supposed to be. This is why he plays with computer code rather than wood working or sewing or anything else that requires measurements. :) Still, it works well enough that I haven't felt the need to recut it. Lazy, me? But anyway, LOVE this robe. Need to make more. Many more. And it sewed up in less than an hour thanks to serging all the seams. Gotta love that.
M's Robe
This robe was fun to make because I really got to let the fabric influence the design. Because it had a directional cross-grain weave and decorated borders I tried to make the most of it. The main pieces were cut with the bottom edge on the selvedge. Technically this affected the curve of the hem, making it straight, but the pattern's curve was already so slight that you can't tell. Due to a cutting error the long sleeves became elbow-length. I could have recut them but decided the shorter sleeve looks so good that I wanted to keep it. The sleeve cuffs are cut from the border and give a good weight to the sleeve. The neck band shows off the "wrong" side of the fabric. The belt is similarly made with the "wrong" side out but the border weave makes it hard to see in the picture. Ah, well. It was stunning in real life, if I may say so!
It took something along the order of 18 HOURS to sew this because I (a) had the bright idea to flat fell the seams which took forever and looked so bad I had to seam rip and redo them and (b) because SO MUCH of it was hand-sewn. I wanted it to be so beautiful on the inside that you could wear it inside out if you wanted. Part of doing that meant hand-sewing the band to the inside, stitch by TINY stitch. After seam-ripping my first (machine) attempt. I also blind-hemmed the hem. On the good side, I'm a far better hemmer now! By the end I was really enjoying the process. There's something very peaceful about hand-sewing and now I might be a little addicted. We'll see how long that lasts. :)
I really enjoyed making both gowns and have plans for yet another one in the works. I'll be sure to show it off when I get it made up!