I'm juuuust about done with my SWAP but my jacket piece is proving to be my sticking point. It's not that I haven't tried - this will officially be my fifth attempt.  Seriously.  What happened to 1-4?  Story for another time.  Basics being that I tried to make fabric work rather than using the right fabric to begin with.  So Friday I picked up 4 yards of black denim at Joanns and now it's washed ready to be cut.  Unfortunately I can't decide which pattern is best for it.  Can you help?
Option #1
Simplicity 4084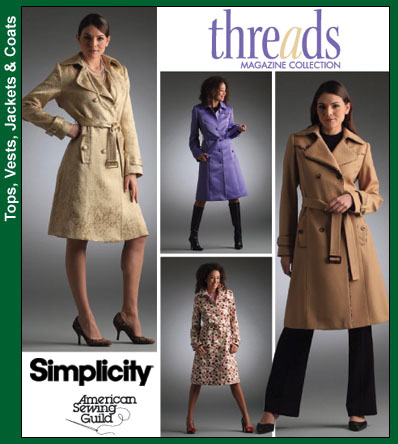 I'd make view C, the single breasted one shown in purple. Problem: I've lost the front yoke pattern piece back when making attempt #1 and I'm not sure the coat would look right without that overlay over the shoulder. It's not super easy to see in the pattern picture but that vertical line right at the shoulder seems to really make the pattern work. So I'm dithering on that. On the other hand the lines are good and I've already got the tissue pattern cut out to the right size. Again from attempt #1. So that's a time saver.
Option #2
Simplicity 2812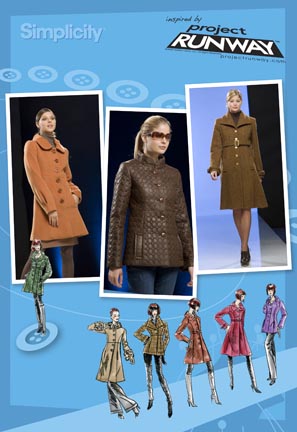 I'd make up the shawl collar version, the one shown in brown on the far right. Knee length. Problem: Not sure if the empire waist won't look totally '09 come next season. However I really like that shawl collar and if the high waist is my only issue then I could piece the parts together and cut as one, eliminating the empire waist. Right? Or is this one of those cases where, if I"m going to do it, I should just do it all the way and include the high waist? So many choices!
Ideally I want a nice lighter weight jacket that I can wear to class and out shopping, over my just-below-the-knee skirts and over my jeans alike. I plan on topstitching with some green thread that matches my green cord skirt and I bought some lovely green wood buttons so no matter what it won't be too boring.
So, what's your vote for the best use of this denim?
Thanks in advance!!!