Mellie got it right!
We're in Disney World. :)
Or were in it ... not there now. Which, much as I love that place, is a good thing. Do you know how hot and crowded that place is in August? Not pleasant. Not at all.
Much prefer September, December, and April. Of course, my school also prefers those months ... for classes. Ah, well. Last trip I really made it a point to take pictures of the unexpected details. The prayer flags in Animal Kingdom's Asia, the buildings in Epcot's World Showcase, little statues tucked in odd places, and all the other little things that puts Disney's parks so far above others. I have a group of black and white photos framed on my wall and most people can't identify them as Disney. For so many people Disney means Mickey Mouse, the castle, and bright colored tackiness. There's far more ... it's just taking the time to look. And most people don't. Can't blame them, after all there's all those rides and shows and characters ... but it's worth taking the time. Also fun - going up to characters and getting your picture taken with their handler (cast member serving as body guard and time-keeper for those in costume). Confuses the heck out of the characters and makes the day of the handler!
Anyway, here's the more obvious shots that would have made the contest far too easy. :)
The Mark Twain paddleboat with Tom Sawyer's Island on the left and the Haunted Mansion in the background.
Cinderella's fountain. Look carefully at the wall behind her - that's a crown. You have to bow to her or be kid-height to get it to line up with her head. Neat trick.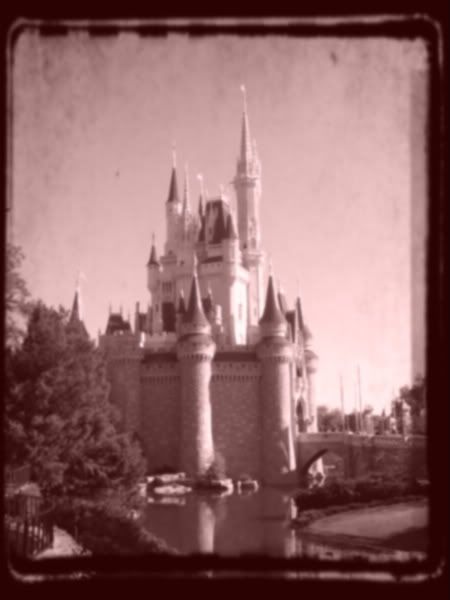 My favorite. Before applying the old photo filter it was just a fairly eh photo of the castle. Kind of impressive but nothing special. However the filter really turns it into something I love. The feel of the 50s of Disneyland mixed with the grandeur of Disney World. And I think I have a Christmas present for my mom now. She'll love this. :)