or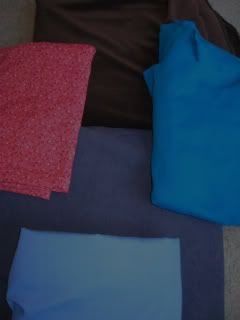 The simplicity shirt is coming along nicely though it's surprisingly detailed for how simple it looks! The back has four tucks and each of the front panels have another two along with two darts, one of which is a tiny french dart at the collar. If you want to practice your dart skills, this is the pattern! And the pattern instructions have you finish all these BEFORE the first step. And there's five bound buttons to look forwards to. Which, oddly, I am. I've avoided buttons to this point because of how ugly my machine made ones are. So I feel like it's time to learn how to bind buttons, just to see if they're worth doing on more garments.
Looking to the wardrobe, I haven't officially joined yet because I'm not certain about the fabrics. I posted my storyboard on PR and the general reaction was positive about the patterns but iffy on the teal/tan combo. Apparently that tan faux suede was not getting any love. That worried me since I KNOW I'm horrible at color matching and so it wouldn't surprise me a bit if they really are bad together. At the same time ... I like them. So I'm trying to decide whether to switch out the tan with another dark brown or a dark denim. One person suggested navy and I like the idea of pairing it with the teal. Unfortunately I don't have any navy and I'm trying to do this entire wardrobe from stash.
Sadly, that's not hard.
Another challenge has been this button up shirt. I really like the pink fabric but I only have enough for a short sleeve shirt - and barely enough for that. I really like the longer sleeves. So what to do... I have some cambridge blue cotton/poly but it's just not jiving with the browns. Even I can see that. Maybe cream... I've got plenty of that left over from my petticoat experiment. I just need to see if the facings will show through and cheapen it. If not I'd love to do some embroidery on it to really up the elegance. Hm. I like it.