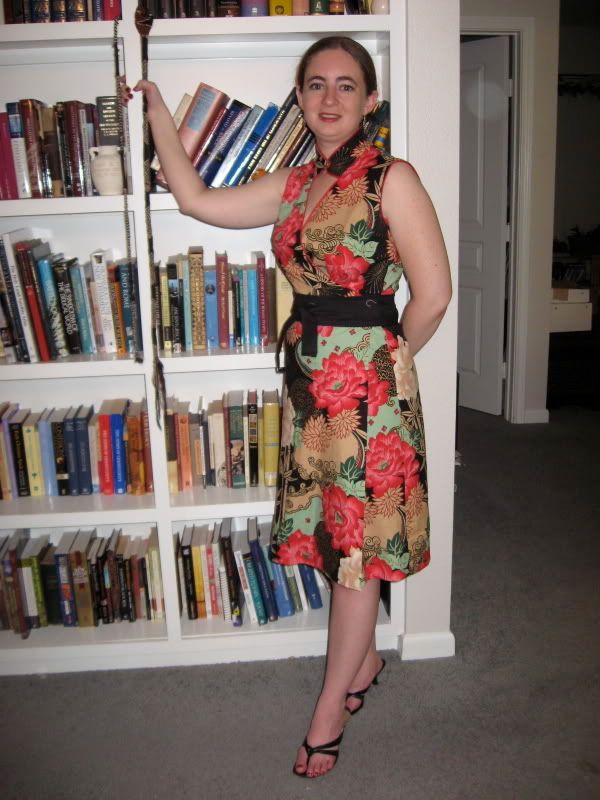 DONE!
Ok, half done...
The inside still needs a good amount of work. And I'd like to line it with a nice red. And add a hook and eye to keep that front neck detail closed. And make the belt. And add a button and loop to replace the safety pins at the sides.
But besides that it's done. :) It hit the point where either the inside or the outside was going to be presentable so I chose the outside. It seemed to make the most sense.
I edged it with some red piping I had in my stash. Good to know - it takes EXACTLY one package of piping to do this. To the millimeter. Talk about cutting it close. Um, literally.
And you'll notice the collar looks a bit different than the pattern picture. Not my fault, that's totally the pattern right there. It's working on this dress but if I make it again (and the linen-look fabic at Joann's is calling to me) then I'll reduce the collar by a good inch. Maybe more. I don't particualarly like my clothing assulting my neck. But, like I said, it seems to work on this dress.
It was fun to make something like this - something a little wild and not something I can wear everyday. Or most days. Next on the list is some more practical sewing which is always easier after some impractical sewing. Today I'm rummaging through my stash to get together an entry for the mini wardrobe contest - stay tuned for that!