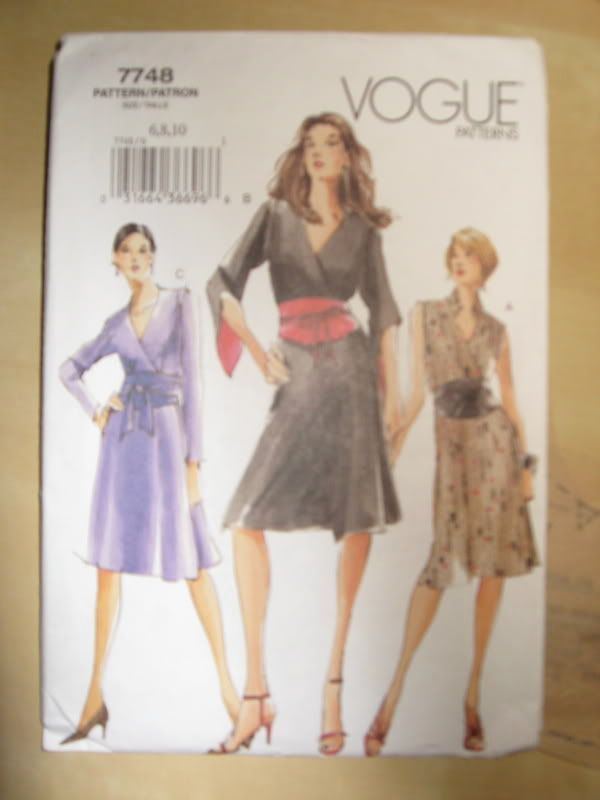 The cute guy and I are celebrating our one year anniversary this weekend and I figured I needed to take the excuse to make something for myself. So a couple nights ago we sat down with my boxes of patterns and he went through and picked his five favorites. I picked this one out of those five. Usually I pick out my own clothes but with 500+ patterns I was facing paralysis so we made it a joint activity. 'Sides, he's pretty good at picking out clothes for me. :) Yeah, he's a keeper.
This is actually a pattern I had tried to make years ago just before going on a cruise and I was so tired I cut out three left bodices. No right bodices, just left. I tried to salvage it but simply couldn't and had to repurpose the fabric as a skirt and part of a top. I'm fairly proud of what I did but still, it meant this pattern got stuffed back in the envelope for the time being.
So now that I returned to the pattern I had to find fabric worthy of it. The suggested fabrics were pretty limited: crepe and linen. Great if I had planned a few weeks ahead. Not so great when my fabric sources are limited to my stash and my Joann's. Now don't get me wrong, I'm very happy with our local Joann's, but largely because I keep my expectations low. Which means not expecting any decent crepe or linen. And I was right. They had "linen look" which is half linen, half poly and all rough and not the best dyes. It's fantastic for medieval clothing because it really captures the hand-woven, hand-dyed from plants look. But that wasn't what I was going for here. Crepe? A small selection of pure poly formalwear, some of which is crepe. Again, not the look I'm going for.
So I head over to the quilting cotton, a section that's getting more of my attention each time I go there. Look what I found!
It's an Alexander Henry print and so vibrant and asian. And just $8.99, making for a $26 dress! I don't sew JUST to save money, but I love it when it works out!
I did have a dilemma, though. Should I stick with the wide skirt or should I frankenpattern this with a narrow skirt? I went to PR for the answers. Posted, checked back to see the answer ... and I got a resounding chorus of "wrong fabric!!!" Ok, so maybe I did choose a DIFFERENT fabric from the original authorial intent ... but last I checked, it's not a fabric decision that will truly make it unwearable like, say, chiffon replaced for denim in jeans. And even so, I've seen a fantastic trench coat made out of georgette so really, it's less about the pattern's requirement than understanding why and how a different choice affects it. I guess I got a little hurt that there was less praise and outright admiration of the utter brilliance of my pattern and fabric and more realistic critiques. Maybe I need to get out more. :) I did have one person wisely note that it would probably work best to sew "as-is" and then pin up the sides to see if I like the narrower look better. After all, you can always subtract fabric.
I got it all cut out tonight (and cut it all correctly!) and started sewing it up. Forgot just how much I love sewing on my old Viking! I've been using my new Bernedette and it's just not the same. Lovely, but not the same. Anyway, the skirt is fully assembled and I've got it hanging on my dress form to get all it's stretch and warp issues out before hemming it. And you know what?
I LOVE it.
The skirt definitely has volume but it works. It really works. It makes this a statement dress like boring ol' linen wouldn't. Or maybe I'm just biased. :) But it is lovely and fun, perfect for the occasion. I'll take pics tomorrow and hopefully get one of me all dressed up in it for dinner out!