You should thank me ... the original title of this post was "One Robe to Rule Them All" but I realized it was all cultural referent without any actual meaning. I mean, if this robe had rings or crowns or some other hint to royalty or Lord of the Rings then it would work. But since it doesn't I just couldn't justify the title.
Though now I have an idea for a future robe.
Anyway, the robe -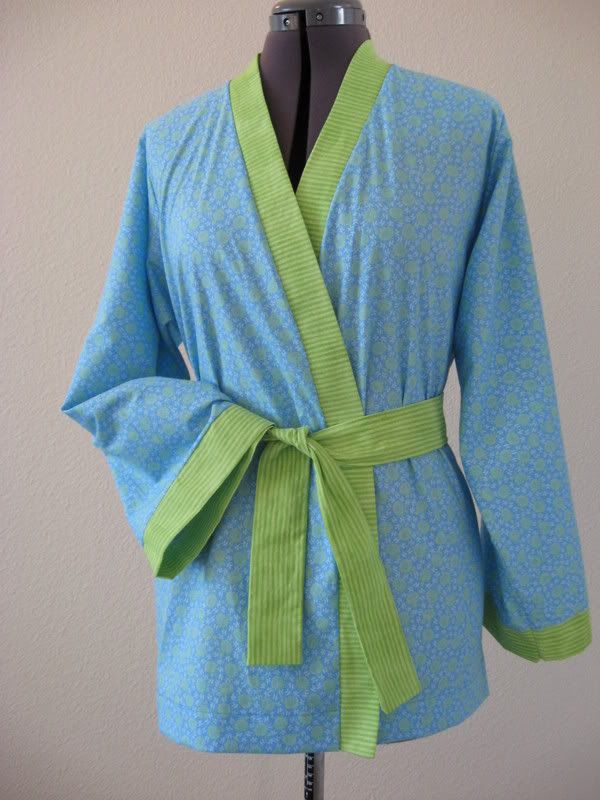 This is a bridal shower present for my friend. My friend who's been married for, um, 6 months. While I've never been the one who had my Christmas shopping done by Thanksgiving, still, I'm usually a
little
more punctual than this. Fortunately this was just part two of the present - part one was a sweet but sexy nightgown made out of a fantastically soft and ever so slightly see-through cotton my mom bought long before I was born. So I don't feel as bad as I might over the delay in getting this robe done. Also I've had a few interruptions in my own life ... little stuff like finals, getting married, moving, and starting a new semester while unpacking to deal with. So anyway, the robe is finally done!
The pattern is my own design, modified heavily from a basic robe pattern from, I think, Simplicity. It's been a while since I've worked with the base, so sorry for the vagueness there! Anyway I made up one version with the original pattern for another shower present (for some reason all my friends have suddenly decided to get married) and even size XS was HUGE. Short but HUGE. It was absurd and just plain unflattering.
So for this second version I traced off the pattern and started modifying. As best as I can remember I thinned down the pattern by a good 2" on each side (more than 8" total), added a slight flare under the waist, reduced both the diameter and the length of the sleeves, straightened the shoulders, and shortened it a bit. While it's not yet
perfect
, I do like it.
I also really like the colors - my friend who's getting this is a huge
Amy Butler
fan so I wanted to make her something with that "look." This led me into colors and contrasts I wouldn't ever have picked for myself. But you know what? I love it. At the same time as I picked up this fabric I got a more subdued pair for my own robe (not yet started on) and in the 6 months between buying and making I'm still in love with these fabrics (more than I was when I bought them) and I'm tired of my own robe's fabrics. I think I need more bright colors in my life.
The pattern whips up in just a few hours, even under this slow seamstress's needle. I serge everything except for the hem and even that's just a basic straight stitch.
My favorite part of this pattern is the opportunities it presents. Since it's for home wear it's a great chance to do some crazy color-matching or use more novelty patterns that wouldn't make it out on the streets. It's also a blank slate for other modifications - add a square pocket on the front made from the edge fabric, perhaps make it ankle length from flannel for winter, some embroidery, trim or topstitching ... endless possibilities!
What would YOU do with this pattern?